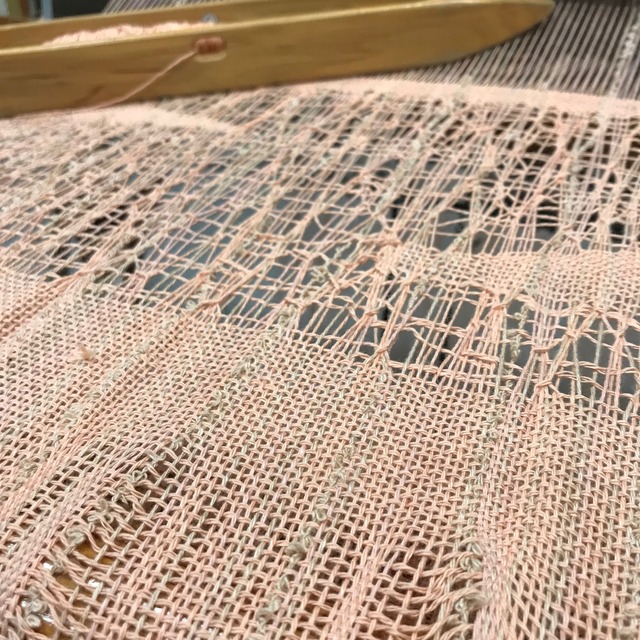 【受注制作御予約】ゆるゆるカーディガンストール(メンズ・レディース) "Reservation"
SOLD OUT
Japan domestic shipping fees for purchases over ¥30,000 will be free.
Shipping fee is not included. More information.
一点物の手織りカーディガンストールのオーダーメイド
※こちらの写真はサンプルです。オーダーメイドの御予約カートです。

カーディガンとしてもストールとしても使える
ゆるゆるカーディガンストール(メンズ・レディース用)
素材はコットンシルクの混合糸やコットン糸がお洗濯しやすくておすすめです。
ところどころレース模様を入れたり、
ラメ糸を入れたり色々な模様を入れたりすることもできます。

柔らかで肌触りは抜群な糸を使用します。
一つ一つ手作りで丁寧に仕上げます。

ご注文後3か月くらいお待ちいただいております。
一点一点手織りのためお時間がかかりますことをご了承ください。
8月以降の御注文分は11月頃のお渡しとなります。
お急ぎの場合は別途メッセージをいただけますようお願いいたします。

サンプル作品はホームページやInstagram @cotonoatelier にも掲載しています。
https://www.cotonoatelier.art/

This photo is the sample.
This is the cart for reservation scarf.
Please send me your request like colour, length, pattern, and so on.
Let's think about it together and decide the design of your original one.

Please understand that it takes about3~4 month to weave it after fixing your order.

A hand-woven winter scarf.
COTONO ATELIER achieve a smooth texture by using carefully selected materials. Their bespoke scarves can be made in original patterns, from your favourite materials and colours. Made in Kyoto, Japan.
Visit website https://www.cotonoatelier.art/
contact cotonoatelier@gmail.com and follow @cotonoatelier on IG.
Add to Like via app
Shipping method / fee

Payment method
¥33,000 tax included
SOLD OUT